ring die pellet machine
Ring die pellet machine is mainly utilized by factories or companies for commercial purpose. Because pellets have a variety of applications. You can sell them to families for cooking or heating and factories as industrial fuel, or use them as energy resource for generating electricity. The ring die pellet making machine is of large body, high yield, and high efficiency.
Whole Ring Die Pellet Machine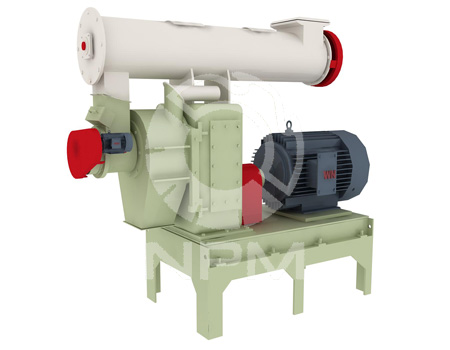 Advantages of Ring Die Pellet Machine:
The main drive adopts high accuracy gear drive, while the ring die adopts quick-release hoop type one, so that the efficiency is improved by 20% than the bimotored belt drive.
Imported high quality bearings and oil seal are applied to make sure high efficiency, stability and low noise.
S-shaped spring coupling of compensation type is of compactness, safe, and low rate of failure.
The intensity of main parts is strengthened from materials and heat treatment.
Patents are employed to improve the capacity of anti-cracking, productivity, and yield
Key Parts of Ring Die Pellet Machine
Choosing a ring pellet machine means you choose a way to realize your dream of wealth more quickly. Compared with flat die, it is more enduring and durable. The high productivity, high efficiency and low energy consumption will make you conduct the one-step operation whenever and wherever you are.
Ring die has a wide cylindrical shape and is set vertically, rather than the vertical design of flat die on the small pellet mill. It is where pellets are forming.
Ring Die
Surge bin is used to feed materials through a variable speed conditioner before being distributed via the pelletizing machine door.
Surge Bin
As a specialized manufacturer, NPM has accumulated over ten years' experience in offering ring die pellet machinery with excellent service and perfect quality. If you are interested in ring die pellet machine, you can get what you want in our website.