As a green and recyclable fuel, pellets have received welcome from increasingly people for different purpose. You can take wastes into pellets easily for your daily life or for business. But if you mean to pelletize in a large scale, you may face troubles with your pelletizing machine during pelletizing like followings:

"Don't worry"
Ring Die Pellet Mill
can solve above problems.
Ring die pellet machines are one type of the hot pellet mills in the world. Compared with the flat die pellet mill, those ring die ones should be not so widespread for its increasing complexity and higher costs. But the ring die pellet mills are the definite choice to conduct a large-scale wood pellets producing for industrial or commercial purposes. Just as its name describes, this machine has a wide cylindrical die and is mounted vertically, rather than flat and horizontally as with a flat die. When you are going to put the biomass materials inside the pelletizing machine door, you can feed them with a surge bin to make them through a variable speed conditioner. A screw auger is significant for the last step to sending materials into the pelletizing machine chamber.
Ring Die Pellet Mills We Offer
Type
Capacity ( t/h )
Power (kw)
Ring Die Capacity (t)
Pellet Specifications (mm)
PM420
1-1.5
95kw
800-1000
6 / 8 / 10 / 12 / 14
PM508
1.5-2
115kw
1000-1200
6 / 8 / 10 / 12 / 14
Type
Forming rate
Ability to operate (h)
Noise
Dimensions (mm)
PM420
﹥95%
﹥20h
≦88dB[A]
3300*1200*3943
PM508
﹥95%
﹥20h
≦90dB[A]
3450*1470*4445
Type
Weight
Pellet energy consumption
Main motor speed (r/min)
PM420
≈3t
≈85°
1000
PM508
≈4.5t
≈80°
1000

Anti-Cracking Technology Cold Molding Technology Structural Improvements

2. Ring die is easy to crack.
3. The output is too small.
4. Press roller and bearings damage frequently.
5. High temperature, excessive dust and unstable run.
6. Equipment consumption is too high and the
processing is not too complicated but difficult to operate.
Key Technical Points:
1
PM420 and PM508 have a same appearance and performance, but they are different in inner diameter of the ring die and productivity. Besides, the power of KMPM420 is 90kw, while that of KMPM508 is 110kw.
2
Our machine adopts high-precision gears for maintransmission. And the ring die is easy to discharge and of shroud ring. With these, the efficiency of our machine increases by 20% than that of belt-drive pellet mill with bi-motor.

3
The transmission part employs imported bearings and oil seal, which make the transmission steady, high efficient and of low noise.
4
The advanced compensation type serpentine spring coupling of international level is featured by novel and compact structure, high security and low breakdown rate, etc.
5
Main components have been strengthened by adopting special materials like heat treatment and other technologies so as to meet the need of biomass pelletizing.
6
Adding of non-stop refueling system and cooling system makes the quality of pellets higher, running stable and consumption low.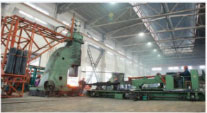 7
Our ring die is national patented, which produce pellets stable and is not easy to craze.
Why Choose Us?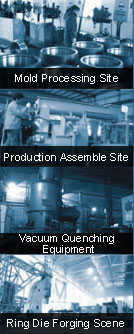 1
Each step of pelletizing is under the hard work of our professional department: Mold Processing---Production Assembly---Vacuum Quenching---Ring Die Forging
20-year experience in ring die pellet mill study, development and production.
Over 300 production lines have been debugged and assembled overseas, while customers are distributed all over the world, like Southeast Asia, Australia, North America, Europe and so on.
The scale of our ring die pellet mill production has almost reached 100 million RMB.
Owning 112 national patents.
Supplying ring die pellet mill production programs after field trips and having put into operation.
2
We can offer any equipment in a ring die pellet production line or the whole production line as you need.
3
Complete storage of spare parts can meet your purchasing demand for main components at any time.
4
Incoming tests service for customers is available, and we will customize the ring die pellet mill scheme that accord with your producing condition specially.